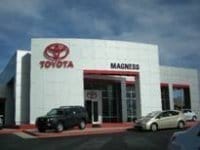 We know we are not the only place you can buy a new Toyota.
But we believe we're "One of the BEST" places you can purchase and service your new or used vehicle.
Magness Toyota is a locally owned, family business located in Northwest Arkansas, in the city of Harrison.  For over 61 years we have served the automotive needs of people just like you.  We are a relatively small operation with approximately 25 employees, most of which have been with us for many years.  We offer small town hospitality without high pressure or hassle.  Every time we sell a vehicle we make a new friend and we build those friendships through the life of the vehicle.
One of the major factors in our success has always been the service to our customers.  Our owner Bill Magness likes to say, "We would love to sell you a car but we are really interested in selling you your next ten cars.  To do that, we must provide "great service to our customers."
"Just because we don't have a huge building and thousands of cars and trucks in stock, does not mean we can't offer you all the best of Toyota", adds Matt Magness.  Magness Toyota maintains a large stock of new Toyota cars, trucks and SUVs, including 4Runner, Camry, Corolla, RAV4, Sienna, Tacoma and Tundra, to name a few.  Our pre-owned units (mostly Toyota models) are hand-picked just for our customers based on their exceptional quality.  Just ask your friends and neighbors about us.
We have customers from all over north Arkansas and southern Missouri. Places like Conway, Marshall, Leslie, Huntsville and others. We also serve our friends & clients in Branson, Ozark, Reeds Spring, Holister and beyond.
If you would like to know more about us and the way we do business, we would love to share our story with you.
Thanks for considering us as a partner in your next automotive purchase or service.